Wisdom Tooth Extractions – Aspen Hill, MD
Careful and Precise Wisdom Tooth Removal
Once wisdom teeth have begun to erupt, which is anywhere between the late teens or early twenties, the patient will likely have all of their other permanent teeth. This means the wisdom teeth won't have the room that they need, resulting in a variety of problems. For example, they can become stuck under gum tissue or adult teeth and cause pain, crowding, and even oral infections. At the Dental Center of Aspen Hill, we can help patients get out of pain due to impacted wisdom teeth and remove wisdom teeth before they have a chance to cause harm. Thanks to our dental experts, we can even perform the entire process of wisdom tooth extractions in Aspen Hill, MD in our dental office. We'll also keep an eye on them during every single checkup you complete, giving us a chance to remove them ahead of time if needed.
Why Choose the Dental Center of Aspen Hill for Wisdom Tooth Extractions?
Skilled, Friendly and Accommodating Dental Team
We Make Your Comfort the #1 Priority
Modern Dental Office Equipped with Advanced Technology
What to Expect from Your Tooth Extraction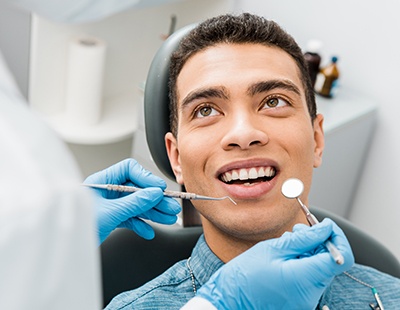 When we've confirmed that your wisdom teeth need to come out, you can expect the procedure to look like the following:
First, we'll numb the treatment area with a local anesthetic to make you comfortable.
After we've confirmed that the area is sufficiently numb, we'll begin removing any gum and bone tissue that is still covering the tooth.
Next, we'll remove the tooth, typically in smaller pieces rather than all at once.
Finally, the treatment is stitched closed and given time to heal.
Over the next few days, you may experience some minor swelling and bleeding. However, within a week of healing, you should be able to resume your regular diet and routine.