Dental Implants – Aspen Hill, MD
The Cutting Edge in Tooth Replacement
No matter which one of our 3 dentists you talk to, they'll tell you the same thing: dental implants replace teeth better than any other option. Not only do they look more natural than bridges or dentures, but they often last the rest of the patient's life. If you want to close the gaps in your smile for good, you should definitely be considering dental implants. You can even get the entire treatment done right here at the Dental Center of Aspen Hill! To learn more on how you can transform your smile for life, call our dental office to schedule a consultation to discuss replacing missing teeth with dental implants in Aspen Hill, MD.
Why Choose the Dental Center of Aspen Hill for Dental Implants?
Every Phase of Implant Treatment Performed In-House
Replace Single or All Teeth for Life
Advanced Planning Through Modern Cone Beam Scanner Technology
FREE Dental Implant
Consultation
A modern solution to replace missing teeth.
Request
a Consult
Today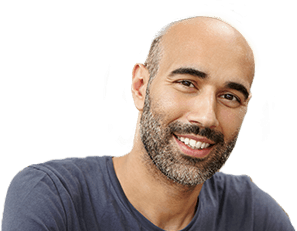 Benefits of Dental Implants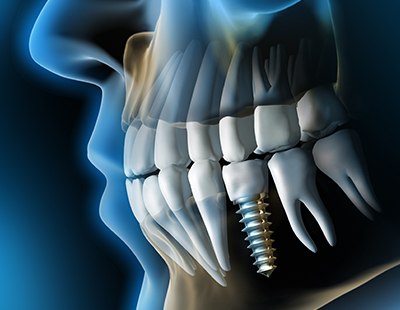 Solid as a Rock: It's important to acknowledge that dental implants are unique in that they replace both the crown of the tooth as well as the root. No other treatment does this. After a small titanium post is placed into the jaw, it can act as a stable foundation for a future crown. This means there's no need to worry about the implant shifting, slipping out of place, or breaking.
Natural-Looking Appearance: To top our implants, we make sure to use custom-made restorations made from 100% porcelain. This allows them to completely blend in with your existing teeth, ensuring that only you and our dentists know which teeth are real!
Protection for Life: Did you know that implants can not only preserve the foundation of your remaining teeth, but make sure your face keeps its youthful shape over time? This is because implants actually prevent and reverse bone loss after teeth are removed.
Longevity Unlike Any Other: When you practice oral hygiene and regular checkups at our dental office, you can expect your dental implant to last for 30 years on average and even the rest of your life!
Indications for Dental Implants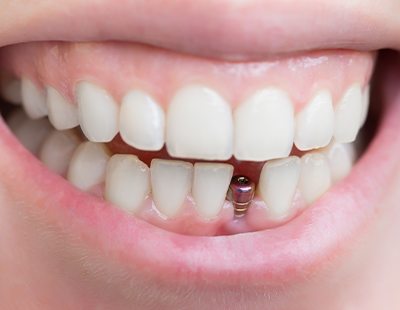 If there's one thing that you can say about dental implants, it's that they are versatile. Regardless of how many teeth you need to replace, we can use dental implants to make it happen.
Missing Single Tooth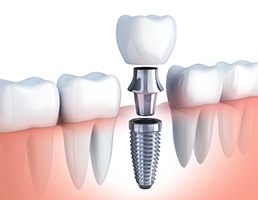 There's no need to sacrifice two healthy teeth just so they can support a bridge. Instead, our team places an implant root into your jaw, then covers it with a ceramic crown, all without modifying your existing dental structures.
Missing Multiple Teeth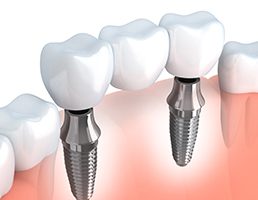 If you want to restore nonconsecutive teeth, we can easily place implant crowns throughout the mouth. Keep in mind that a small number of roots are strong enough to support a partial denture. However, if you are missing multiple consecutive teeth, a pair of implants can be used to hold a bridge. These titanium posts are stronger and more reliable than what you'd find in a traditional bridge procedure.
Missing All Teeth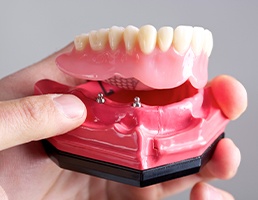 Are you missing a large number of teeth? Simply sick and tired of dealing with a denture that doesn't stay in place? Implants offer a set of teeth that you can rely on. By using just 4 to 6 strategically placed implants, a full denture can be secured directly to the jawbone. This instantly brings back a patient's smile as well as their biting strength.
Start to Finish Convenience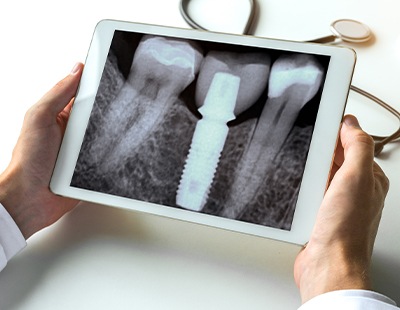 If you want to have dental implants placed, it's essential that you complete a minor surgical procedure where the new roots are carefully positioned within the jawbone. In most cases, dental offices will refer this portion of treatment to a specialist outside of the dental office. That's not the case at the Dental Center of Aspen Hill. Instead, we're able to perform your implant treatment from start to finish under one roof. Everything from your first consultation to the crown placement can be done with the same dentist and team, making the whole process faster and less stressful.
Understanding the Cost of Dental Implants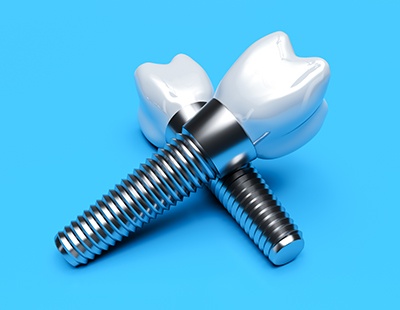 As mentioned earlier, dental implants can be utilized in many different ways to aid patients struggling with tooth loss of all severities. Because of this, the cost of the procedure can vary from person to person. Before beginning treatment, our team will make sure to discuss relevant pricing information with you directly so you know what to expect beforehand.
It's a fact that implants generally cost more upfront when compared to dentures and bridges. However, it's also worth noting that implants last far longer. Typically, restorations need to be replaced every 5 to 7 years, which only increases their long-term costs. Implants are designed to last for several decades, which means you're not paying nearly as much for retreatments later on.