Advanced Dental Services & Technology – Aspen Hill, MD
Offering State-of-the-Art Advancements in Aspen Hill
When you visit a dental office that stays ahead of the newest techniques, tools and materials in dentistry, you're far more likely to experience the very best that dental care has to offer. At the Dental Center of Aspen Hill, our team is happy to hold the title of "dental nerds." Whether we're doing research or learning how to integrate the latest discoveries in the field into our own dental office, all patients can expect care that is as efficient as it is comfortable. No matter what you need, we look forward to showing you what modern-day dentistry can accomplish. To see it for yourself, schedule an appointment today!
Intraoral Camera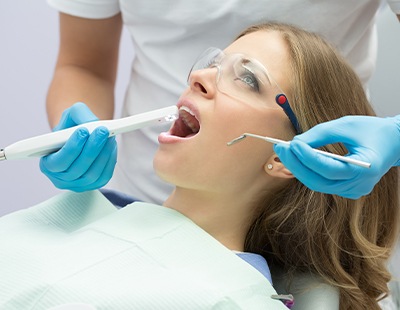 You'd be surprised how difficult it can be to get a comprehensive look at a patient's mouth. While such a basic problem can also be one of the hardest in dentistry, we have the perfect solution for examining the many surfaces of the teeth and gums that are hidden to the naked eye. Our dental office uses an intraoral camera to ensure nothing ever gets past our team during your next appointment. This pen-sized device captures high-resolution images of your mouth, which are then displayed on a nearby monitor next to the dental chair. From there, your dentist will go over them with you in greater detail, point out potential problem areas, then discuss solutions, so you never feel left out during your exam again!
Digital X-Rays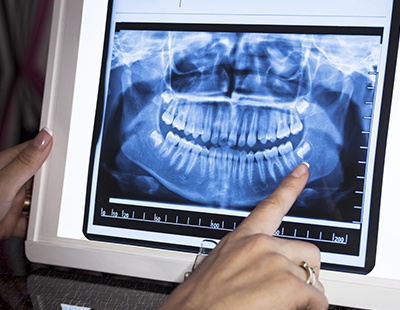 Did you know that some of the most common dental problems are only visible below the surface of the teeth and gums? To make sure we find them before they cause issues, we utilize a digital X-ray machine, a device that gets daily use at our dental office. Since we've upgraded, we can now make our patients' visits more efficient and give them the peace of mind knowing what the condition of their oral health actually is. Keep in mind that compared to traditional radiographs, digital X-rays don't take nearly as much time to develop and emit up to 90% less radiation along the way. This ensures the safest and least time-consuming X-ray process possible.
CBCT Scanner
In some cases, we need even more information than what a digital X-ray can provide! For example, if we are placing a dental implant, performing a root canal, or completing another service that involves any oral surgery whatsoever, we capture 3D X-rays using our cone beam CT scanner. This device helps us collect 3D cross-sections of your jaw and mouth, giving us a chance to confirm the location of important areas like the nerves, blood vessels and your overall bone structure.
Digital Impression System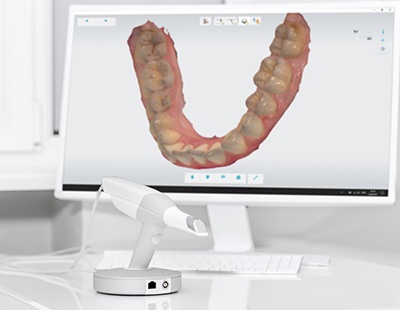 Have you ever needed to bite into gray impression material when visiting dentists in the past? If so, you'll be relieved to learn that you won't necessarily have to do that at the Dental Center of Aspen Hill. This handheld device lets us capture hundreds of images of your teeth, gums and overall mouth. The images are then used to create a detailed, 3D model of your smile, making it easier to create restorations or clear aligners to address your dental needs.
Soft Tissue Laser Dentistry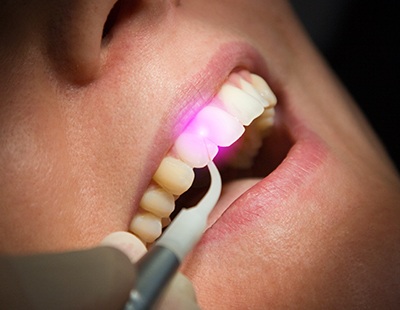 At the Dental Center of Aspen Hill, the future is truly now! In order to target and get rid of harmful bacteria from along the gum line, all without causing any pain, we use a soft tissue laser. Not only does the laser sanitize the gums as it's being used, but it cauterizes it as well. This leads to a far more comfortable treatment and shorter recovery times. What's really surprising to patients is how gentle the laser actually is; in most cases, local anesthesia isn't necessary to stay relaxed.
Nitrous Oxide Sedation Dentistry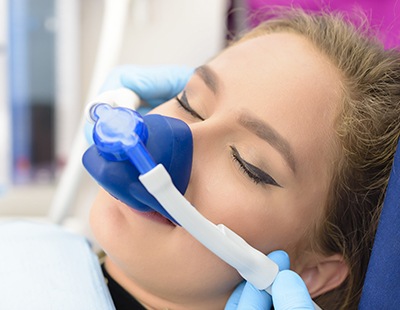 While we are quite used to seeing nervous patients, there are few things that make us happier than showing someone that there's nothing to worry about when it comes to their dental care. If you're in need of guidance or getting comfortable in the dental chair, we offer nitrous oxide. To make your anxiety vanish, you simply need to wear a small nasal mask, then slowly breathe in a colorless gas known as nitrous oxide. After just a few minutes, your body will feel warm, calm and relaxed all the way through your treatment. We ask that you continue wearing the mask while receiving your care. After removal, the effects of the sedative will wear off in minutes. This means you can continue your day without interruption!