Implant Dentures – Aspen Hill, MD
A Smile That's Built to Last
Modern dentures may look better than ever, but they aren't without their drawbacks. If you're one of tens of millions of people who are missing all of their teeth, you may have thought dentures were your only option for addressing major tooth loss. Our team recommends implant dentures in Aspen Hill for those looking for a longer-lasting, more natural-looking (and feeling) tooth replacement. Implant dentures provide the best comfort, longevity, and functionality, so don't wait another day to schedule an appointment with Dental Center of Aspen Hill today!
What are Implant Dentures?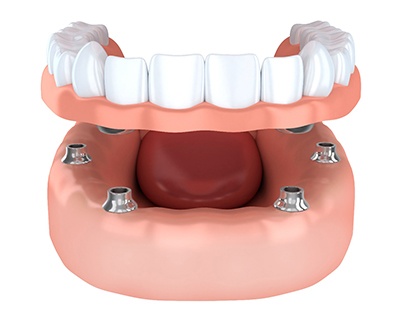 If you have never heard of implant dentures before, you should know that they are very similar to dental implants. These titanium posts are designed to mimic the roots of teeth as well as hold dedicated restorations that make up your smile. Titanium is biocompatible, meaning it can fuse with bone and soft tissue without much issue. Not only can they hold single crowns and bridges, but dental implants can hold a complex denture as well. Compared to traditional dentures that only sit on top of your gums, implant dentures offer better comfort, esthetics, function and longevity. The type of implant denture you choose will depend on your preferences.
Fixed/Permanent Implant Dentures
These are designed to stay in place and only be removed by a dentist. In most cases, four to six dental implants are needed to keep it stable. This means you will need a healthy amount of bone tissue to hold the implants. You also won't need to remove them for daily cleaning.
Removable Implant Dentures
As the name implies, removable implant dentures can be easily taken out for oral hygiene. Additionally, they require only two to five implants, making them more ideal for those with jawbone loss as a result of missing teeth.
The Implant Denture Procedure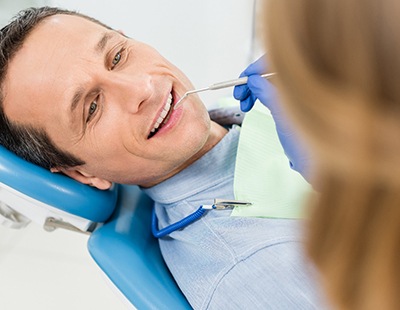 Much like standard dental implants, implant dentures require four phases: consultation, surgery, healing, and placement of the restoration. After your detailed consultation, we'll be able to confirm if implant dentures are right for you and get you scheduled for surgery. We perform the entire process in-house, making your experience all the more convenient. To place the implants, we open the gum tissue and create small holes for the implants to sit in. Once placed, they'll be given several months to heal so they can effectively hold an implant denture at a later date.
Am I a Candidate for Implant Dentures?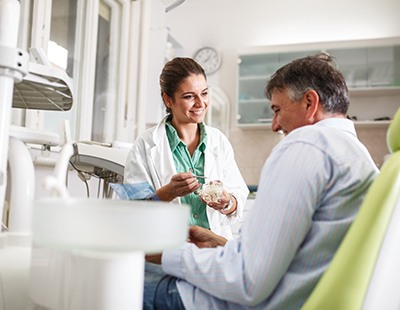 Candidates for implant dentures should have the following:
Good oral health (no existing dental disease should be present)
Good overall health (you'll need to be able to complete minor surgery to receive dental implants)
Sufficient bone tissue (if not enough tissue is available, we can discuss options to expand it through bone grafting)
Benefits of Combining Dentures & Dental Implants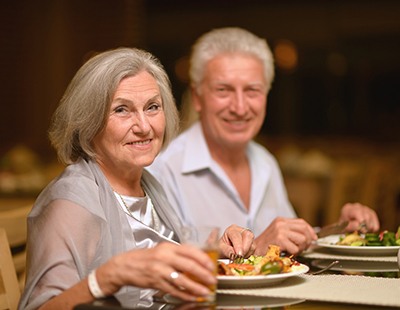 There are many benefits you can expect when choosing dental implants to hold your future denture:
Better longevity – implant dentures can provide 30+ years of use
Exceptional esthetics – your smile and overall facial appearance will look more youthful
Expanded diet – Eat the foods you want without worry of a shifting or sliding denture
Simple at-home oral hygiene – brushing and flossing feels nearly indistinguishable from your original teeth
Boosted confidence – smiling, speaking, and laughing with friends feels natural day-to-day