Dental Bridges – Aspen Hill, MD
Bridge the Gap After Tooth Loss
Whether you're missing just one tooth or several pearly whites in a row, it can make it more difficult to do everyday tasks like chewing, speaking, and smiling with confidence. Not to mention, not replacing missing teeth can lead to severe oral health problems over time, like drifting teeth and an increased risk of gum disease and further tooth loss. One popular way to replace one or even multiple consecutive missing teeth in Aspen Hill is with a dental bridge. This custom-made restorative treatment looks and feels like a perfectly natural part of your smile. To schedule a consultation with one of our dentists and learn more about how this restoration can rebuild your smile after tooth loss, just give us a call!
Why Choose the Dental Center of Aspen Hill for Dental Bridges?
Natural-Looking Materials Designed to Last for Years
Highly Personalized Treatment for Every Patient
Affordable Financing with CareCredit Payment Plans
What Are Dental Bridges?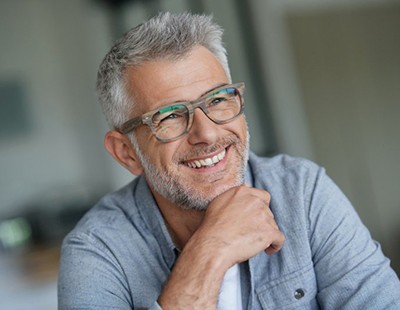 A dental bridge is made of two dental crowns with one or more replacement teeth called pontics in between them. Each of the crowns are placed on your remaining teeth at the ends of the gap in your grin to support the artificial teeth in the middle. You could also opt for an implant-retained bridge, in which a dental implant is placed at either end of the gap to provide an even longer-lasting and sturdier tooth replacement.
Every bridge is made of natural-looking materials, such as porcelain or ceramic, and personalized to resemble the rest of your smile.
Benefits of Dental Bridges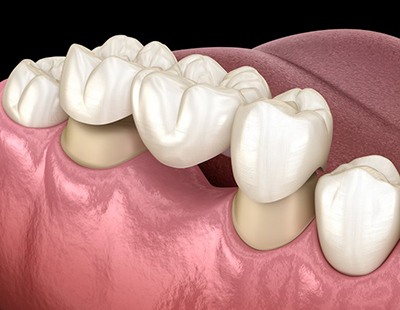 Dental bridges in Aspen Hill offer many advantages, some of which include:
They are a relatively quick and easy way to replace several consecutive missing teeth at once.
Bridges prevent your remaining teeth from drifting, which also saves you from having TMJ or orthodontic problems as a result of an uneven bite.
The materials that bridges are comprised of are durable enough to allow you to chew practically any food.
Bridges are designed to mimic the pearly whites you were born with.
With proper maintenance, your bridge can last up to 10-15 years before it needs a replacement.
The Process of Getting a Dental Bridge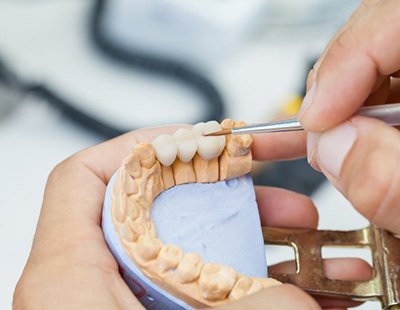 Receiving a dental bridge usually takes two or three appointments that are spread out over the course of a few weeks. Some of the steps in this process are:
An initial consultation to examine your mouth, determine your eligibility for a bridge, and develop a customized treatment plan
Taking detailed impressions of the part of your mouth where your teeth are missing
Sending the mold of our impressions to a trusted dental lab
Placing a temporary bridge while the lab is crafting your permanent one
Returning a few weeks later to remove your temporary and cement your final bridge into place
If you choose an implant-retained bridge instead, the process will also involve an oral surgery in which the titanium posts are placed directly into your jawbone. However, we can perform the entire dental implant process in-house, so there's no need to worry about visiting an outside specialist. Once your implants have fused to your jawbone (which may take three to six months), we can place your bridge, allowing you to enjoy the benefits of a full smile!
Dental Bridges FAQs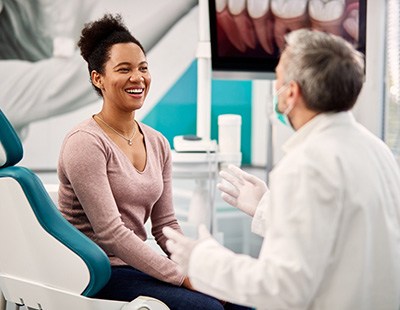 If you need to replace one or two missing teeth, then dental bridges in Aspen Hill may be the ideal solution for restoring your smile. While you can expect to enjoy many benefits from these restorations, it's natural to want to know more about the treatment before committing to any work. For this reason, our team at the Dental Center of Aspen Hill is more than happy to share and answer some of the most frequently asked questions we get about dental bridges. Read on or give us a call today if you don't see the information you're looking for!