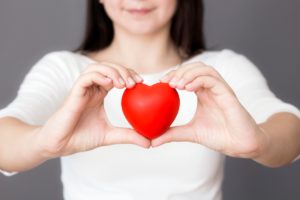 Since heart disease is the leading cause of death in the United States, people are naturally trying to take better care of their hearts as they grow older. This phenomenon has become so widespread that February has become officially known as American Heart Month. While it's no secret that a nutritious diet and regular exercise can benefit your heart, oral health is also a key component of a healthy heart. Specifically, preventing gum disease in Aspen Hill may reduce the risk of cardiovascular complications. Keep reading to learn how!
Gum Health & Heart Health: The Surprising Connection
Recent research has shown a relationship between the health of your gums and that of your heart. While the exact link has yet to be identified, the prevailing theory is that inflammation is to blame.
Gum disease develops when plaque builds up in the mouth. Left untreated, bacteria can accumulate and attack the gum and bone tissue supporting the teeth, resulting in tooth loss. However, the bacteria could also access the bloodstream, where they may spread to the heart. At this point, inflammation might cause your arteries to narrow, making it more difficult for blood to reach your heart. This contributes to a host of cardiovascular issues, including heart attack, stroke, and high blood pressure.
How to Tell Whether You Have Gum Disease
Now that you know the importance of avoiding gum disease, you'll want to keep an eye out for its symptoms. Unfortunately, gum disease is often barely noticeable in the early stages. Still, let your dentist know right away if you experience any of the following:
Sensitive, red, or puffy gums
Bleeding after you brush or floss
An ever-present foul taste in your mouth or bad breath
Pain or tenderness when chewing
Teeth that look longer
Easy Tips for Preventing Gum Disease
An estimated 50% of adults in the U.S. currently have gum disease, but that doesn't necessarily mean you're destined to get it. You can drastically reduce your risk of gum disease, and its related heart conditions, if you take a few simple precautions:
Brush your teeth twice a day for two full minutes each time. Pay close attention to the area where your gums meet your teeth.
Floss at least once every day. It's the only way to clear out bits of food and bacteria from between your teeth.
See your dentist regularly (every six months, for most people) for checkups. Often, they can spot early signs of gum disease long before you would have, so they can treat it swiftly and conservatively.
Avoid generally unhealthy lifestyle habits, such as drinking excessive amounts of alcohol or using tobacco of any kind.
Who knew that taking care of your smile could work wonders for your heart? By taking a proactive approach to your oral care, you can maintain a healthy heart for this February and many more to come!
About the Practice
At the Dental Center of Aspen Hill, we have a team of five caring dentists who combine their skillsets to deliver truly comprehensive care to families in the Silver Spring, MD area. While they strive to help patients avoid gum disease, they also offer expert gum disease therapy, including laser treatment for superior precision and comfort. If you're looking to have a healthier heart, you can start with your smile by getting in touch with our team. Just visit our website or call 301-871-6660.