Kind General Dentist—Aspen Hill, MD
Get to Know
Dr. Maura Byrne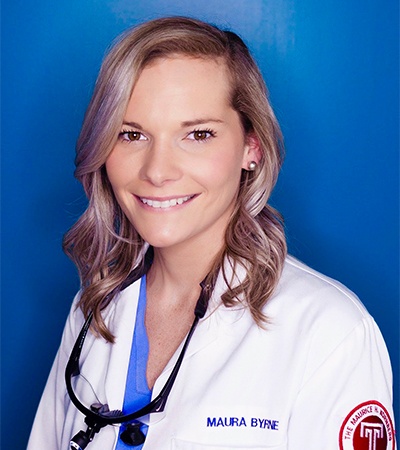 For Dr. Byrne, being a dentist isn't just about taking care of teeth, but forming relationships. Nothing makes her happier than getting to know a patient while simultaneously protecting and preserving their oral health and appearance. Her friendly and personalized approach not only helps her patients feel relaxed, but it leads to higher-quality dentistry as well! Before you meet her in person, you can learn more about Dr. Byrne below.
Why Did You Decide to Become a Dentist?
Growing up, Dr. Byrne babysat the children of two general dentists. Noticing her interest in science and medicine, the couple suggested that she spend some time at their office to get a firsthand experience of life in the dental profession. Immediately, she fell in love with dentistry. She was inspired by both the meaningful interactions with patients and the artistic component of treatment. Dr. Byrne also liked the fulfillment that comes from using your hands to restore a patient's smile and improve their overall quality of life.
Where Did You Study Dentistry?
Dr. Byrne graduated from Fordham University before earning her dental degree at the Temple University Kornberg School of Dentistry. While in college, she shadowed both general dentists and oral surgeons and was a member of the honors oral surgery team that performed more advanced surgical procedures. After graduation, she completed a 1-year General Practice Residency at the Washington DC VA Medical Center where she broadened her skills in all aspects of dentistry, including implants and digital dentistry.
Today, she is a member of the American Dental Association, District of Columbia Dental Association, and Academy of General Dentistry.
Outside of the Dental Office, What Do You Like to Do?
When not at work, Dr. Byrne enjoys spending time with her family and fiancé, hiking, and traveling.